Welcome to Lisbon!
Welcome to the official GRONEN 2020 Registration website. On this page you find all matters related to registration, hotel accommodation, optional sightseeing tours and other services that you may require. GRONEN 2020 cooperates with TA DMC Portugal as their official agency. They will be happy to assist you.
Discover Lisbon, a city full of authenticity where old customs and ancient history intermix with cultural entertainment and high-tech innovation. Lisbon is famous for its hospitality and the family-like way it welcomes visitors.
Venue
Catolica Lisbon is located north of the city of Lisbon, closeby Lisbon International Airport and Lisbon's main public hospital Santa Maria. The Marriott Lisboa Hotel is literally across the road.
Metro - Underground
There are 2 metro stations located walking distance to venue (please consider 15 minutes walk depending on pace). One is Cidade Universitária on the yellow line and the other is Jardim Zoologico on the blue line. The Lisbon Metro operates every day from 6:30 Hrs to 1:00 Hrs. Presently one way ticket has a cost of EUR 2,00 travel card included. This fare may be subject to change in 2020.
Lisbon International Airport i

s
served by the red line. To see a diagram of the Lisbon metro network, please click here, to see the Lisbon metro network on top of Lisbon city map, please click here.
Carris - Public Buses
With a network that covers the great majority of the City and its surroundings. Please be aware that only small luggage is allowed (maximum dimensions of reference: 55x40x20 cm). Carris buses with stops close by venue are: 755, 764 and 768. Tickets can be bought on board of the buses, presently the price for one way ticket is EUR 2,00. This fare may be subject to change in 2020.
Aerobus
The Aerobus service ensures regular links between the Lisbon Airport, several areas in the city and bus and train stations. This custom service is composed of dedicated and helpful staff, with stops at the main hotels. To check tariffs, routes and timetables please click here.

GRONEN 2020
Start: 17 June 2020
End: 19 June 2020

Católica Lisbon School of Business and Economics, Palma de Cima, 1649-023 Lisboa, Portugal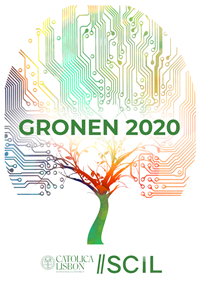 Organizer of the GRONEN 2020 Conference